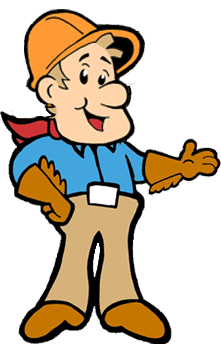 Have you ever heard of the term, "Food Stylist?" That's a person who makes the pictures of meals on a menu look much more appealing than the actual meals you're served. Well, in the manufactured home industry, you'll find something similar…Dealers I like to call, "Price Stylists."
Price Stylists know the #1 question customers have, and what gets them in the door, is price. So they've devised ways of polishing their prices to make them look oh-so appetizing…until you actually sit down and see you're getting.
Y'see, when most people refer to the price of a home, it's in terms of traditional, site-built pricing: the price of a completed project, ready to move in. And they assume that when they ask for a price, this is what they'll get in response.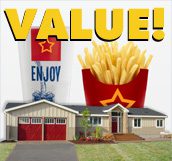 The Price Stylist uses this assumption to his advantage and presents a stripped out price to the consumer to draw them in. Their prices often exclude basic services such as Delivery from the Factory, Foundations, or Warranties. Without a clear understanding of the ins & outs of the manufactured home industry it is easy to fall prey to these Price Stylists.
Knowing the right questions to ask will allow you to compare homes on a level playing field and avoid Dealers that can leave a bad taste in your mouth.
Here are my Top 4 Questions you should be asking (besides Price):
1. Is the price "All-Inclusive?"
In a Food Stylist's poster, you might see a photo of a hamburger surrounded by extra juicy toppings, a side of golden-brown fries, and a cool, refreshing soda. Then the word, "Hamburger" and a low price. But when you order the burger, you just get a slab of meat on a bun. The "Price Stylist" uses this trick, too when he quotes F.O.B. (Freight On Board or Free on Board) pricing.
"F.O.B." pricing is deceptive since it's only the cost of the pre-built home sections at the Factory, without any delivery or set-up. So, "technically" it's the price of a home, but in order to set it up and move in, it will cost a lot more.
This is like ordering a burger at a sit-down restaurant and finding out it doesn't come completely assembled, that nobody will bring it to your table when it's ready, it has no toppings, you have to provide your own condiments, and you don't even get a plate! Oh! But it's cheap!!
F.O.B. pricing does NOT include:
Shipping/delivery of the home sections to your site.
Assembly of home sections.
A foundation for the home.
Set-up of basic services & utilities.
So, unless your minivan can haul a 5-7 ton home section and you've got the tools & training to properly set-up a home on your land, you're going to be paying much more than the advertised F.O.B. price.
Don't fall for F.O.B. quotes, ask for an "All-Inclusive" price. An All-Inclusive price factors in the average costs of everything involved in your home project. From getting the home built at the Factory to delivering it to your land, setting it up, permitting it, and attaching utilities…the works.
Most reputable Dealers have an average All-Inclusive price already worked out for their available homes. To get your actual All-Inclusive price you will have to sit down with a Building Consultant and get into the specifics of your project. But for a good starting number, and something you can use to compare products & services on a level playing field, the average All-Inclusive price is what you need.
2. Where's the Factory?
Just like the classic fast-food campaign, "Where's the Beef?," it's important to know the quality of the product or service you're getting. A price, alone, does not tell you if you're working with a Local or Out of State manufacturer…but it can make a whopper of a difference in the service you receive!
Local Factories, ones within the same state or region, often provide a Quality Care Service. This is a partnership between the Factory and the Local Dealer, where the Factory has a dedicated crew who inspects each new home on-site and provides Factory Repairs.
This means a Factory Representative will be there to inspect the work of the local Dealer and ensure it meets or exceeds Factory standards. They also provide finish work inside the home, inspect & repair as needed, and do a complete walk-through with the customer before handing over the keys. If there are any issues with the home, they are addressed to the customer's satisfaction so the buyer moves into a defect-free home.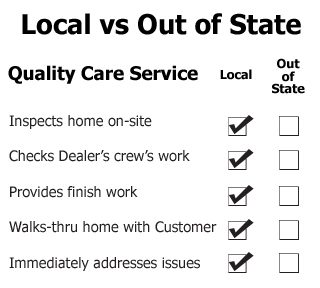 Conversely, the further away the Factory is, the less responsive their Quality Care becomes, if any.
Out of state manufacturers do not have Factory representatives on-site, so the final walk-through is done by the Dealer, who then reports any defects to the Factory. If there are issues the Factory needs to attend to, they are not addressed until there is enough work in your area to make the trip convenient for the Factory. Easily 2-3 months may go by before work is scheduled on an out of state home.
So, make sure you get prompt Quality Care Service…ask where the Factory is and how they handle Quality Care.
3. What kind of warranty is included with the price?
Price Stylists have worked hard to find ways of stripping down homes to make their prices look better. An easy, and oft-overlooked, method of doing this is by skimping on the Warranty.
Many buyers assume all warranties are the same, but they actually vary greatly. It's important to ask which kind is included with the price, because, while a "10 year Structural Warranty" sounds like an incredible value on the surface…"Comes with a 10 Year Warranty!"…when you find out it doesn't cover cosmetics, appliances, or plumbing, you can be stuck with a hefty bill if something goes awry. Here are the 3 basic warranties you'll need to ask about for manufactured homes:
Structural Warranties
All-Inclusive Warranties
Limited Warranties
First off: the Structural Warranty. Every manufactured home in California requires a Structural Warranty to cover the chassis, floor, roof and frame. These are typically 5 or 10 year warranties but, as highlighted above, they only cover very specific structural defects. Cosmetics, plumbing, appliances, and the like are not covered by the Structural Warranty. You'll typically find these items covered in the following 2 types: "All-Inclusive Warranties" or "Limited Warranties."
All-Inclusive Warranties provide "FULL" coverage of your home, appliances, etc. for the specified time of the warranty (usually 12-15 months.) These include a Structural Warranty and are good from the date they are issued (normally at move-in) no matter the age or construction date of your home. Many Dealers also offer extensions on these warranties of up to 7 or more years for a nominal fee or include an extension as a signing incentive/promotion.
Limited Warranties are often issued separate from a Structural Warranty and only cover specific items or issues with a home. In addition, these claims are often "pro-rated" as opposed to fully covered. Pro-rating means they only cover a percentage of repair & replacement costs, and the percentage drops as the home ages. Also, Limited Warranties often only cover certain items for a limited amount of time before coverage lapses or becomes pro-rated.
For example: a 12 month Limited Warranty may only cover the trim inside the home for the first 15 days after move-in. If a defect is not reported until 30 days in, it will not be covered or only a small portion will be. The homeowner will have to pay a percentage to replace or repair it.
To ensure you get a beefy warranty, ask for an All-Inclusive Warranty with Full Coverage and make sure it's good for at least 15 months to 3 years.
4. Is the best Price the best Value?
This question is actually for yourself and the Price Stylist is hoping you won't ask it!
If you don't mind buying a stripped down version of a home, with little to no warranty, unresponsive service, and you plan to do all the site work yourself, then, by all means, shop strictly by price.
But if you are looking for the best 'VALUE" in a new home, consider what's included in the construction. Compare more than just the floor plan, compare the materials, the Dealers' experience, and the Factory's reputation & response time.
Look for upgrades that are included in the price, such as raised panel doors, 36″ doorway widths, perimeter heating, or rounded sheetrock corners. These are values in a home that go way beyond price.
Ask yourself what YOU value most and you just may find that Price isn't the only thing that matters.
I hope these 4 questions help you make a more satisfying decision, and they're sure to help you see through any Price Stylist's tricks! As always, if you have further questions, you should speak with a local Building Consultant at a display center near you. Till next time…
Good luck, and happy home building!